AIHOOR A1 - Wireless In-Ear Earbuds with Active Noise Cancellation (ANC) and Charging Case
---
Active Noise Cancellation
Awake Siri/Voice Assistant
What customers say about A1?
---
If you don't want to spend $$$ on Airpods pro, buy this one!!!
Reviewed in the United States on June 16, 2021
I already had a Sony wh-1000xm3. I just needed something lighter for my work out and didn't want to spend $$$. I searched earbuds under $50 on amazon and I picked this pair up because they were giving coupons.

Then, I was amazed by what you can get for only ~$40!!

These earbuds are so light and produce great sounds, way beyond my expectations. The noise cancelling is decent and comfort. These earbuds are my first choice now. I don't use my Sony wh-1000xm3 anymore.

Also, unlike many other wireless headsets, when connected with an Android phone the sound volume tends to be low. You have to download additional headset apps to your phone and do lots of additional settings to make things right. This pair work perfectly with my Android phone right out of the box.

Give it a try and you will know what I am talking about.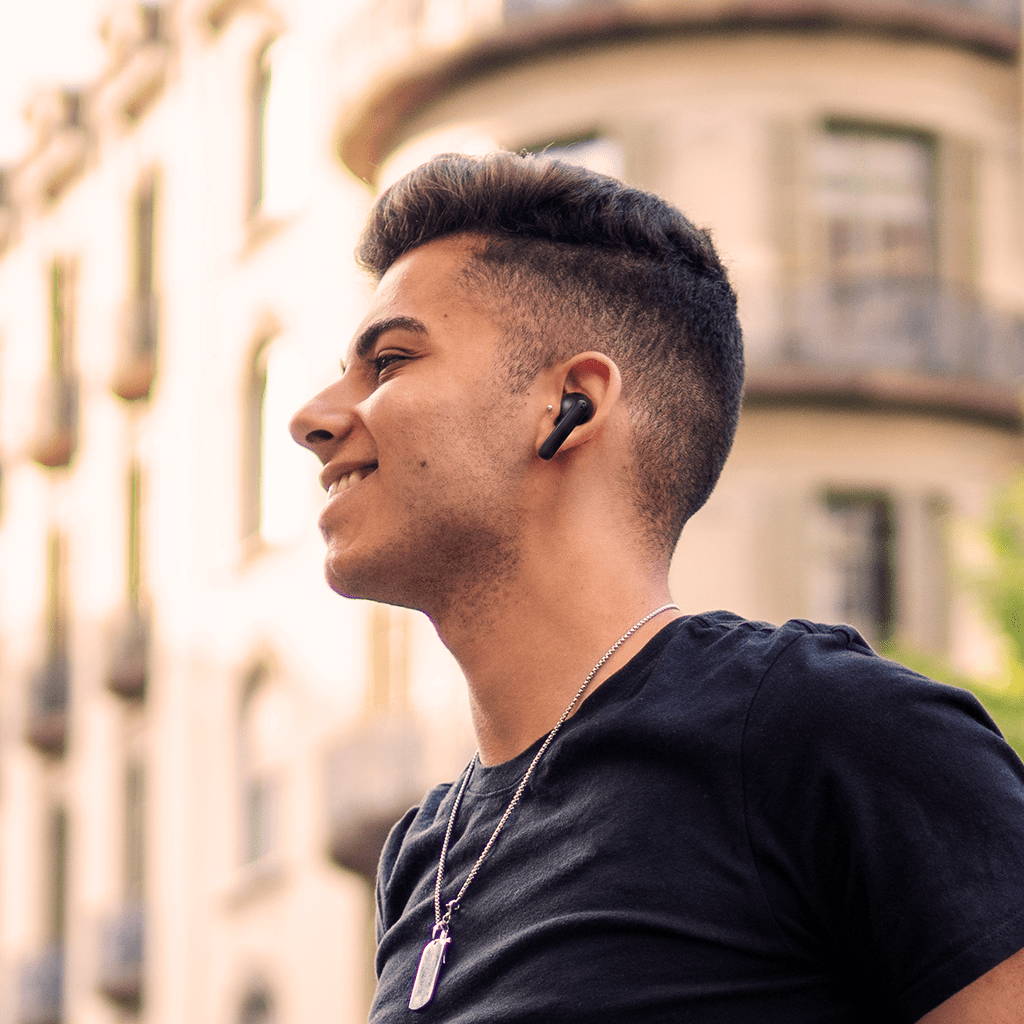 Listen! Your life is about to become full of joy.

AIHOOR True Wireless Earbuds with Active Noise Cancellation. Be prepared for whole new listening experience.
In order to bring you the bass shock like a live concert, each AIHOOR earbud has been repeatedly tuned by a professional tuner to achieve the best sound quality experience. From drum beats to clean vocals, it's like listening to your favorite song for the first time!
---
ANC mode & ENC call noise reduction

10mm Large Size Speaker Driver

4g Ultra Light Earbuds

Bluetooth 5.0

One-step Pairing

USB-C Charging

Touch Control

Voice Assistant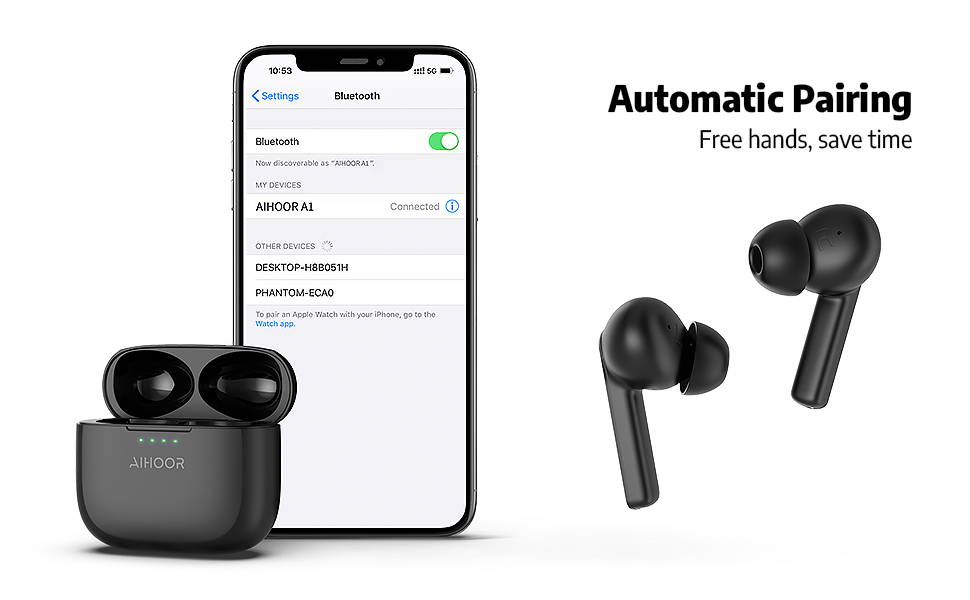 ---
Remove the earbuds from the charging case

Turn on Bluetooth settings in your phone

Select "AIHOOR A1" and wait for the connection to succeed

Enjoy!
Remove the earbuds from the charging case (Earbuds will automatically reconnect to the last paired device)

Enjoy!
Please Notice:
Please remove plastic film and charge before pair!
We have distribution warehouse in the United States, United Kingdoms, Japan and Hong Kong. Orders will be dispatched from your nearest warehouse in order to expedite delivery speed.
We accept multiple payment methods, including credit card, debit card, PayPal, etc. Your payment information will be encrypted and fully protected. You can cancel the order at any time before the goods are dispatched and get a full refund.
If you have any questions about order, product or service, please feel free to contact us via email at any time. We will reply and solve the problem for you within 24 hours.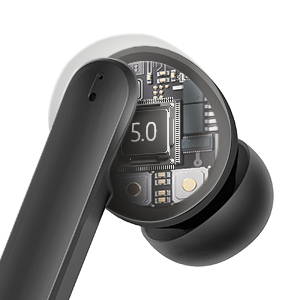 Advanced Bluetooth 5.0 Technology
Bluetooth 5.0 greatly improve the transmission signal. It delivers a faster and more stable wireless connection with lossless low latency high-quality sound and offers extended range with scarcely dropouts.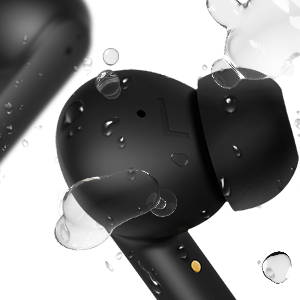 IPX4 Waterproof Protection
IPX4 sweatproof will protect the true wireless earbuds from liquid splashes, such as accidental splashes and intense sweat. You can wear them for daily exercise, such as jogging, yoga, hiking, etc.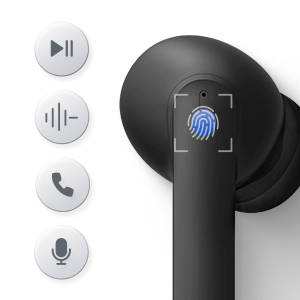 Smart Touch Controls
Minimize discomfort to your ears by adopting gentle touch senser. Control Play/Pause, Previous/Next Track, ANC on/off, Voice Assistant by merging multiply control functions in one touch spot.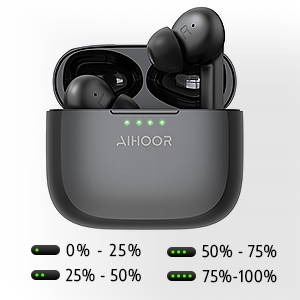 Clear Battery Indicator
The power indicator on the charging case allows you to know the power status of the charging case at any time, and you can charge your earbuds in time when the power is insufficient.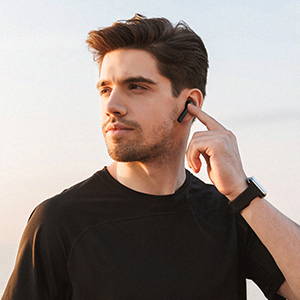 Clear Phone Calls
Build-in Microphone comes with advanced ENC technology which provides better collection of tones, reduce outside noise and hence allows you to have a clear conversations during every phone call.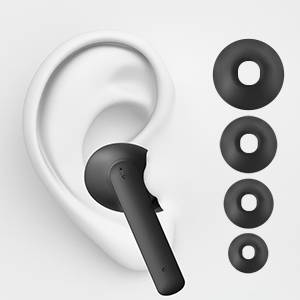 Simple Secure Fit Design
The earbuds come with 4 size of ear tips, from Large to Extra Small, there is always one that fits your ears. Follow the 3 steps in below to get the best comfort brought by the earbuds.
Select Suitable Ear Tips

Insert

Twist and Lock